Recreation
Lawrence County, Alabama residents enjoy a multitude of recreational options. For the outdoor enthusiasts, Lawrence County offers hiking, canoeing, hunting and other outdoor activities in the Bankhead National Forest and the Sipsey Wilderness. The county also offers many cultural and art events, as well sporting events and facilities.
Golf Courses
Deer Run Golf Course
Located in Moulton, Deer Run Golf Course is a par 72 course with a course rating of 70.9 and a slope rating of 119. The 18-hole regulation length course also features a driving range, clubhouse, gift shop and snack bar. This 18 hole Earl Stone design has proved to be very popular for over 30 years to locals and tourists alike. The course features large undulating bent-grass greens and Tifton Bermuda grass, fairways, tees, and roughs. The course has 5 lakes, 30 bunkers, and a mixture of mountainous holes, flat holes, and water holes. Four sets of tees are available for golfers of all abilities, ranging from 5400 to 6800 yards.
The Shoals Golf Club - Robert Trent Jones Golf Trail
Located in nearby Muscle Shoals, Alabama, The Shoals features two 18-hole championship courses and is part of the famed Robert Trent Jones Golf Trail. The Fighting Joe golf course has a course rating of 78.7 and a slope rating of 138. The Schoolmaster course covers nearly 8,000 yards and has a par of 72.
Parks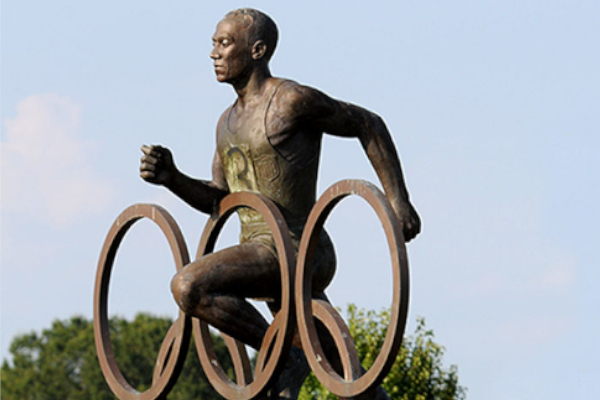 The Jesse Owens Museum & Park is located at the legendary Olympian's birthplace in the Oakville Community of Lawrence County. Honoring the life and legacy of the track and field legend, the facility was dedicated June, 1996 with the arrival of the Olympic Torch enroute to the Atlanta Games. Owens' captured four Gold Medals in 1936 Berlin Olympics shattering Hitler's Aryan supremacy theory. The museum annually draws tens of thousands of visitors from around the world and nation. Athletic and humanitarian achievements of Owens' are depicted through interactive kiosks, displays, a rare documentary narrated by Owens, memorabilia and a museum store. Outdoor attractions include a Birth Home Replica, Bronze Statue, 1936 Olympic Torch Replica, interactive Broad Jump Pit, Olympic Gold Medal Tree, picnic pavilions, ball fields, basketball court and a playground.
Bankhead National Forest
Spanning across 180,000 acres of land in Northwestern Alabama, the Bankhead National Forest has four main recreation areas offering outdoor activities such as hiking, primitive camping, swimming, canoeing and horseback riding. The forest is also home to the Sipsey Wilderness, also known as the "Land of a Thousand Waterfalls".
The Doublehead Resort and Lodge is located on 400 wooded acres overlooking Wilson Lake. The resort has white sand beaches, a swimming pool, boat rentals, sporting clays, paddle board/canoe rentals and fishing.
Situated on the banks of Wheeler Lake north of Lawrence County, the Joe Wheeler State Park features a modern marina, lodge, convention center, 18-hole championship golf course, tennis courts, boat launches and swimming areas.
Cultural / Historical
The Oakville Indian Mounds Park and Museum features a 1.8-acre ceremonial mound that stands 27 feet high, as well as a second ceremonial mound. The park is also home to an educational center and includes a portion of the Black Warrior's Path / Mitchell Trace, which was once used as a removal route for 2,500 Creek Indians.
Formerly known as the General Joe Wheeler Home, Pond Spring celebrates the life of "Fighting Joe" Wheeler of the Confederate Army and later the U.S. Army during the Spanish American War. The 50-acre site includes 12 historic buildings, gardens, and archaeological features that date back almost 5,000 years. The home, historical buildings, and gardens are available for tours. For more information, click here.
Historic Courtland
Courtland, Alabama contains more than 100 historical buildings, homes and sites dating from the early 1820s to 1938. Architectural highlights include homes from the Victorian and Colonial Revival eras. Guided walking tours of the historic town are available through Ms. Jane's Antiques, located in downtown Courtland.
Festivals
Multicultural Indian Event-annual festival usually held mid-May at the Oakville Indian Mounds. Native American living history including drum and flute music, dancing, basket weaving, pottery making, hide tanning, and much more.
Strawberry Festival-annual event usually held the first weekend of May on the square in downtown Moulton. Car show, Hornet Hero 5K and 1-mile run, mud volleyball, music, dancing, various vendors and of course, delicious strawberries.